Self-Publishing Tools, Tips, and Techniques
Self-publishing has exploded in popularity in recent years. However, many authors hesitate to go this route because they think the process is extremely difficult. Or they take the plunge, make mistakes, and are disheartened. To make matters worse, self-publishing services have proliferated, preying on authors' uncertainties and lack of knowledge about self-publishing. These services often charge you excessive amounts of money to do what you can in fact do yourself.

Since 2009, I have been self-publishing my books and my wife's books, and I've helped over 35 clients to publish their own books—a total of over 80 books as of February 2018. This book distills what I've learned about the process. I hope it will enable you to self-publish your book at little or no cost and not fall prey to scams.
Facebook Page
I've set up a Facebook page for the book in hopes that it will develop into a place to discuss self-publishing. I'm also hoping that readers will use that page to expand on the topics covered in the book and even to suggest better tools, tips, and techniques.
To go to the Facebook page, click here.
Table of Contents
Click on a thumbnail to see the full-size image.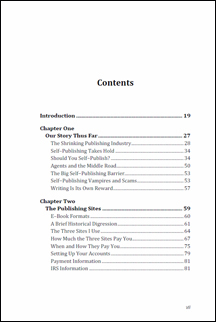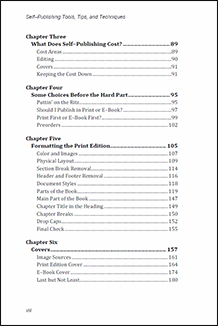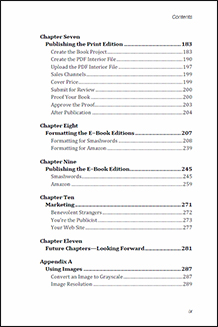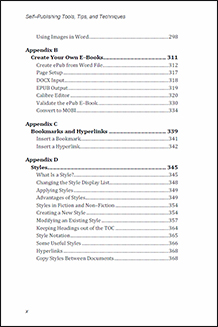 Read a Sample
Print Edition
To read the first 20% of the book, click here. This is a PDF file taken from the print edition, so it shows how the print edition is formatted. Please feel free to pass this PDF file to anyone who might be interested in self-publishing.
E-Book Edition
Click on the image below or the Preview link beneath the image to read the first 20% of the e-book edition. This preview is from the Amazon site, and it has the simpler formatting of the e-book.
Purchasing Links
Print Edition
E-Book Edition
BWA Presentation
On May 14, 2016, I gave a presentation about self-publishing to the Boulder Writers Alliance. The material in the presentation will be included in the book. You can see a PDF version of the slides I used by clicking here.